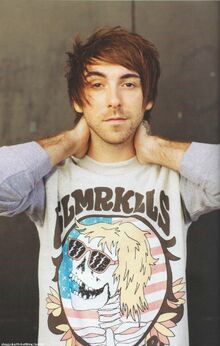 Alex Gaskarth was born on December 14th, 1987. (Age 29) His parents are Isobel

Gaskarth and Peter Gaskarth. He has two half sisters, and he had a half brother who died earlier in the years. When he was in middle school, he was taken out of private school to public school, where he met Jack Barakat, his best friend. He is the singer and 

rhythm guitarist for the band All Time Low. Alex later married Lisa Ruocco in 2016.

Edit
Personal Life

Edit
Alex Gaskarth was born on December 14, 1987 in Essex, England. He and his family moved to the United States when he was eight. He has stated that he is a resident alien, meaning that he must possess a green card in order to enter the country.
Alex's older half brother, Tom Gaskarth, passed away a while back due to Alcohol abuse. According to a Rocksound interview, Alex was 12 and Tom was 21 when he died. Alex does not like to mention his half brother. He even has a tattoo on his left hand of a rose dedicated to him.
April 9th, 2016 Gaskarth married longtime girlfriend Lisa Ruocco.
"Life's greatest tragedy is not that it will someday end, but that most only live to follow directions and sometimes we end up totally lost." 

"This next song goes out to anybody who's ever been told that the way that they think or the way that they feel is the wrong way to think or the wrong way to feel. Goes out to anybody who's ever been pushed down, held back, walked on… Anybody who doesn't feel comfortable in their own skin, anybody…everybody - It goes out to everybody. It goes out to all of you! And the reason it goes out to all of you is because every single one of you is fucking beautiful. I've noticed that there's a lot of people in the world trying to tell other people that they're not beautiful. And I don't stand for that, I think that's bullshit. Each and every single one of you are gorgeous, believe in yourselves. This song goes out to all of you. It's called 'Therapy'."

 

"Be real, because a mask only fools people on the outside. Pretending to be someone you're not takes a toll on the real you, and the real you is more important than anyone else." 

"Dont throw yourself out on another's whim. People change, as do intentions and as a result, consequences. Live for yourself - Love those around you, but realize that they've got their own agendas."

 

"This song goes out to anyone whose ever been told that how you think or feel is wrong. It goes out to everyone who's ever felt alone. It goes out to anybody who's fucking sick and tired of being told what to do. You are, the most important person in the world. Every single one of you. Don't let anybody tell you differently, okay?"

"Music is a matter of taste. Bitching at someone for liking a certain style of music is like yelling at someone for liking broccoli with melted cheese (which, might I add, is awesome). I don't understand why there are so many snobs out there who deem it necessary to force-feed their opinions to others, and claim that their experience i...n the matter makes their statement any more credible than the next, when, as I said before, its all a matter of taste. If you dig it, awesome. If you don't, awesome. Its just another plate being served at the world's biggest (in this case musical) buffet. Don't make some kid feel guilty for listening to what he / she enjoys."

 

"Music is the soundtrack to every good and bad time we will ever have."

"Breathe. Remember, it's just chemicals." - Alex Gaskarth on anxiety and panic attacks.
"this song goes out to anyone struggling with addiction. and addiction can take form in many ways, so i want you to know that no matter who you are i believe you can get better. i believe in you." -Alex gaskarth's speech ,March 14th 2017 Cambridge Corn Exchange, on missing you.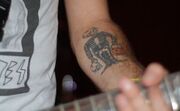 Alex's first tattoo was a skeleton dressed as a skeleton going trick-or-treating on his forearm. The meaning behind this tattoo is very simple; his favorite holiday is Halloween.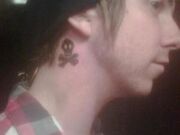 Alex's second tattoo was an image of the band's logo, a skull and cross bones. Every member of the band has this tattoo, including some long-time crew members.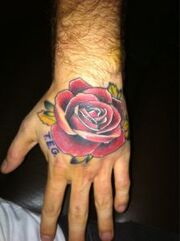 Alex's third tattoo is a pinkish colored rose with the initials T.E.G. on his left hand. It is by far his most meaningful, as he got it in memory of his brother, Tom.
Alex has collaborated twice with the clothing line Glamour Kills to create his AWG line, most recently making the "Fools Like We" collection.
Alex and guitarist, Jack Barakat, have a bromance known as Jalex, seeing as the two are very close friends. While there have been times where they said the ship is true and kissed off-stage, they are actually 'going out'. All four members of All Time Low are homosexual and Jalex isn't just a joke.
Alex has starred in a movie called Fangirl, featuring the rest of All Time Low and Kiernan Shipka.
Twitter: @AlexAllTimeLow
Tumblr: Earth To Alex
Instagram: AlexAllTimeLow
Snapchat: AlexAllTimeLow
Facebook : @AlexAllTimeLow