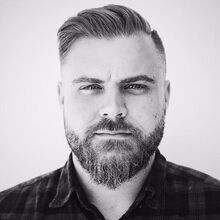 Brian Michael Southall (born February 16, 1982 in Detroit, Michigan) is an American guitarist, drummer, keyboardist, vocalist, producer, and band manager. He is known for playing in bands fordirelifesake, Boys Night Out, The Receiving End of Sirens, Isles & Glaciers, and The Company We Keep. He is also the tour manager for Motion City Soundtrack. He is currently the tour manager for All Time Low & Børns.
In 2013, All Time Low's long time tour manager Matt Flyzik stepped down. The band went on through 2014 on a few short tours and then finished the year recording their sixth studio album, Future Hearts. In 2014, Matt Jara-Ratajsczak (tour manager for Pierce The Veil) went on to become All Time Low's tour manager for only the Love Like Tour tour in Spring 2014. In 2015, following the announcement of tours and other events in support of the new album Future Hearts, Southall became their tour manager.
Ad blocker interference detected!
Wikia is a free-to-use site that makes money from advertising. We have a modified experience for viewers using ad blockers

Wikia is not accessible if you've made further modifications. Remove the custom ad blocker rule(s) and the page will load as expected.