The Party Scene is the debut full-length studio album by American based pop punk band All Time Low, released on July 19, 2005 via Emerald Moon Records. Only two singles were released, titled "Circles" and "The Girl's a Straight-Up Hustler".
Track Listing

Edit

No.
Title
Length
1.
"Prelude"  
0:43
2.
"The Party Scene"  
2:58
3.
"Lullabies"  
3:58
4.
"Hometown Heroes; National Nobodies"  
2:53
5.
"Circles"  
3:20
6.
"Interlude"  
1:50
7.
"We Say Summer"  
3:06
8.
"Break Out! Break Out!"  
3:10
9.
"Running from Lions"  
3:06
10.
"Noel"  
4:10
11.
"I Can't Do the One-Two Step"  
4:02
12.
"The Girl's a Straight-Up Hustler"  
3:59
13.
"Sticks, Stones and Techno" 

(only listed in liner notes, not on rear insert)

2:23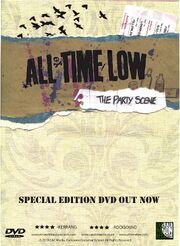 Rian Dawson – drums
Jack Barakat – guitar
Zack Merrick – bass guitar, vocals
Paul Leavitt - piano, synths, strings, percussion, effects
Matt Flyzik - vocals ("The Girl's a Straight-Up Hustler")
Jai (of twitter) - auto-tune ("Sticks, Stones And Techno")
Ad blocker interference detected!
Wikia is a free-to-use site that makes money from advertising. We have a modified experience for viewers using ad blockers

Wikia is not accessible if you've made further modifications. Remove the custom ad blocker rule(s) and the page will load as expected.